The lead singer threw up his middle finger– a finger which was stuck firmly in the neck of an empty upside down bottle of whiskey.
Headliner Weedeater (Southern Lord Records) spilled across the stage with an enlivened set that matched the spirit of the drummer's t-shirt that simply read "Southern as Fuck". The crowd responded with approval to his raised (and fully inked) arm as they kicked off their set at the Double Door in Chicago, alongside Lazer/Wulf and Full of Hell, a band on A389 Recordings, a D.I.Y. label in Baltimore, MD., but each band supplied a full swig of heavy music with distinct flavor.
Lazer/Wulf (Athens/Atlanta, Ga.) opened with awesome stage presence. Occasionally, the guitarist's body jerks like it's in an electrical socket at a crazy funhouse, where the wiring has gone very wrong– while effortlessly delivering blistering finger work. Fast bursts of maniacal laughter punctuate the lyrics. Strong delay effects echo on the vocal throughout. All three members have full facility on their instruments, roaring through the set with eerie, eye-catching aplomb. The bassist is in a trance, laying into every fret with heaviness and precision. With a kit smack in the middle of downstage, the drummer delivers solid intensity throughout. The production value and instrumental valor of their stage show make this a band to watch, no matter what genre you like.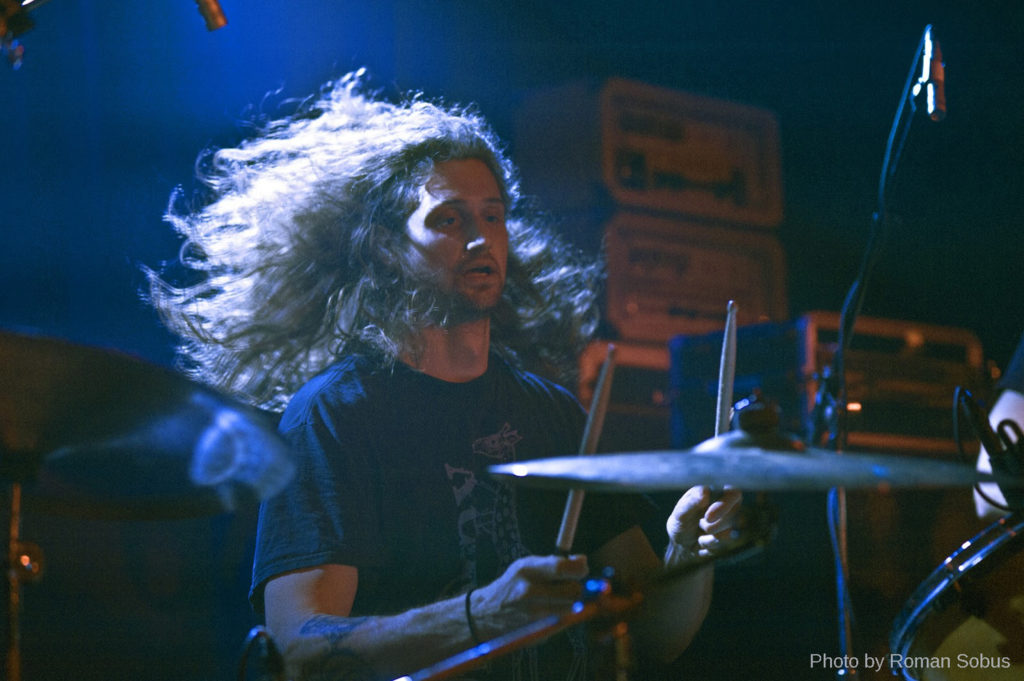 The opener gave this warning: "Full of Hell will [kill] you, and Weedeater will bring you back to life."
Full of Hell took the middleset with sounds that slaughter what you think music is. It's not just loud, nor is it just heavy—it's an audio assault that viscerally affects the body. What is the sound of eyeballs being ripped out? Of course, there's a name to live up to. The lead singer talked with the crowd plainly, like an old friend visiting the city, mentioning how they got a Chicago-style hot dog, before launching into music that is unlike anything else out there.
The band's album art with a black and white photo of a drum set scoured by rock and roll makes it looks like it's a punk band, but they're onto something the same way John Cage was when he asked listeners to redefine how they see music and sound. While it's unlikely that the band is listening to 4'33" (John Cage) on the tour bus, it's just as revolutionary. Instead of adding sounds from the environment to the musical lexicon, the band is adding sounds from, well…hell.
Double Door did a great job on live sound and lighting. Even with ear plugs, my ears did not escape the full-on magnetism of the intensity. Plus, fantastic flashes of bright dramatic color were burned into my retinas.
The solid crowd of black jacket-clad gentlemen at the Double Door, some with one arm longer than the other (the one holding the beer), were staying until the bitter end.  No doubt everyone left full of a little more hell…and with kudos to A389 Recordings for Full of Hell, which added to a great set of touring bands hitting up a classic Chicago rock stage.
Lazer/Wulf, Full of Hell and Weedeater – Live Show Review of Double Door, November 16, 2014