It didn't take long for Nick Moss, a prolific roots musician bridging multiple genres, to put a national crisis in perspective through music.
Capturing the emotional journey of a city ravaged by race riots, the song "Shade Tree" is a touching homage to change and growth. Showing once again that music transcends issues, listeners are in for a real treat from this all-star band as they deliver with power, grace, and heart.  His song is brought to life with his band.
Touring the South with blues musicians was part of the trail blazed by award-winning guitarist Nick Moss. The Nick Moss Band blends the barriers between Rock, Soul, Blues, Funk and Jam Band genres. Specifically blues, one of the primary foundations of rock music, was the source of tapping into an understanding of the African American experience. In the late 1980's as Nick was performing with established Blues acts, he noticed the bands kept being booked at the back of hotels. Jokingly, he asked why. A musician looked him in the eye and said "That's just the way it is."
In Ferguson, Mo. last Fall, the city rioted around the shooting of an unarmed African American by a police officer. When it was announced that the officer would not be charged with murder, riots took on a new ferocity. Heated debate exploded on the Internet. When Moss read specifics in the news, he responded with a raw, simple message. His song "Shade Tree" is the soundtrack to this city's emotional journey.
"Tears were rolling down her face when she heard it," Moss says of his wife Kate, who often is the first pair of ears to hear his latest compositions. The prolific artist is set to release his tenth album, following "Time Ain't Free", named one of the 50 Best Albums of 2014 by Guitar Player Magazine, on Blue Bella Records. Nick, who entertains thousands of people every year, prefers playing with his back turned to this one-person audience so to present a new song objectively. He wrote the song in about a half hour. When he hit the last chord, there was silence. Thinking he wrote a clunker, he turned around only to find her crying. Overcome by the meaning, words and music she said, "I love this song."
Nick's singer Michael Ledbetter, whose range from R&B to opera expands the prowess of Nick Moss Band, agreed it was a special song. It also seems appropriate the song is sung by a descendent of Ledbelly. Nick shares that the song is a reflection not on "right or wrong", but on being better than what's happening to you and being better than who's bringing you down. Focusing on the ground under our own two feet, and then working out from there is a place to start. Helping a neighbor, or getting to know the people on your street, the person sitting next to you is a place to continue.
The Ferguson news sparked an article in The Washington Post pointing out that this was the first time since the early 20th century that the St. Louis area rioted over race. In the Civil Rights era, for example in 1967, over 100 cities in the U.S. had race-related riots. St. Louis, the 10th largest city at the time, sat that one out. When the Comedian and Activist Dick Gregory was asked why this was, he replied, "Shade trees." Nick knew from experience that this means the ability to stay cool, and not get heated.
Nick doesn't claim to be a pacifist, yet as a bigger guy who was once State wrestling champion, he would still choose to calmly resolve a misunderstanding. The Rodney King Riots of '92 and even Sports-inspired riots show how people can disrespect the ground we walk on. "That is something I don't understand, a team wins and you tear apart the town". He was especially touched by the riots in Ferguson. How can we be so irrational to tear apart where we live? When riots happen, disorder wins. The goal instead is to resolve the conflict.
Yet, looting and flaring tempers led to rage, rioting and the mistrust between the public and the police force. "Shade Tree" lyrics include "He is my sworn defender / in the land of the free / as I walk down the street / he's suspicious of me / this is my home being torn apart / it will never be the same / beneath the shade tree." The song's live video also includes Nick Fane (Bass), Patrick Seals (Drums), Taylor Streiff (Keys).
His band, set to tour Europe this summer, embodies a variety of genres and styles including Soul, Rock and R&B. "Shade Tree" offers a tribal, hypnotic riff and soulful, Gospel-like vocals.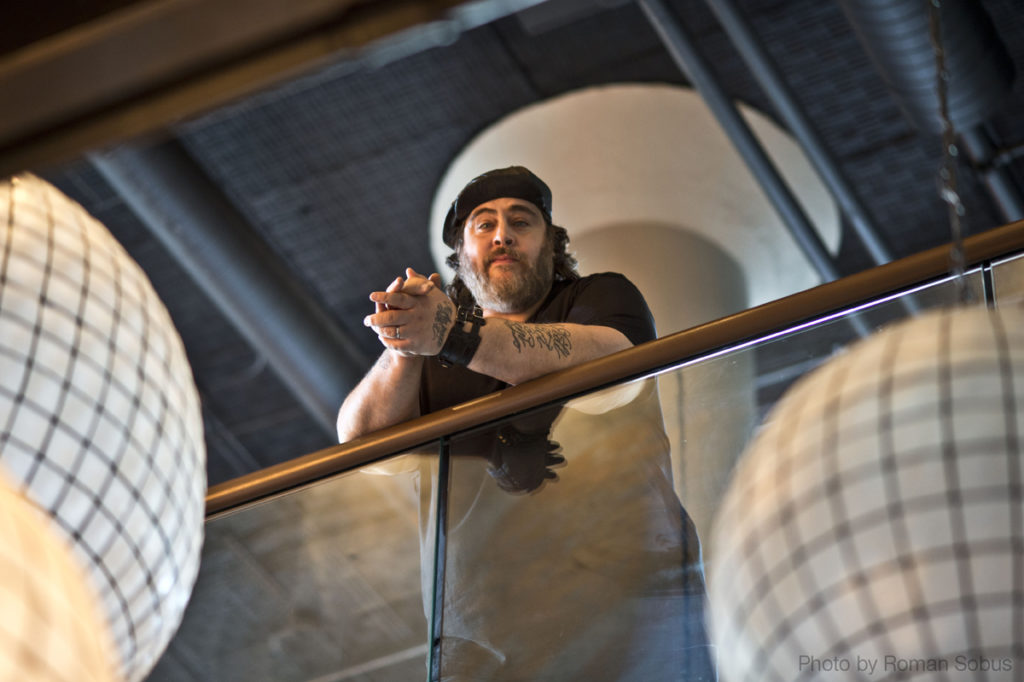 As Nick grew up, his mother taught tolerance of people different than him. He remembered the television series Roots, and how proud people were of that. With the Civil Rights era close behind, by the 1970's it seemed like things were better.
In the 1970's, he and his older brother were introduced to guitars. His brother's skills soared ahead while as for Nick's guitar: in 2 weeks it was under the bed, in 6 months it was in shards. Moss picked up bass as a way to be in his brother's band. As a bandleader today, bass is the first thing he hears. "The history of music is drums and a low-end noise," says Nick, "Music is rhythm of life, energy." Listening to soul records in his youth and an emphasis on tolerance of people's differences could be reasons he is at home with the music as a universal language. "We all come from somewhere we are who we are," says Nick. With the starting point of taking care of ourselves, our home and our neighbors, we can all rebuild, as a town and a nation moving forward.
"Shade Tree" offers a raw emotive power that grips the heart and soul. What would otherwise be a static online news story becomes a song of contemplation and transcendence. With the story going viral on Facebook, an exponential number of us heard of the police brutality and the city's response. Yet few outside of the city's 20,000 or so residents felt the personal impact—that's where music comes in. Fronted by Michael Ledbetter's vocals, "Shade Tree" breathes heart wrenching transcendence into a situation that touched millions. As America continues to iron out its history and move to the future, we see once again that music has the power to move us.
Nick Moss Band upcoming tour dates:  Click here.
For news on the Upcoming Release in the Spring/Summer of 2015 on Blue Bella Records, and more Nick Moss Band:  Click here.
Photo Credits: Roman Sobus
Article by: Hannah Frank