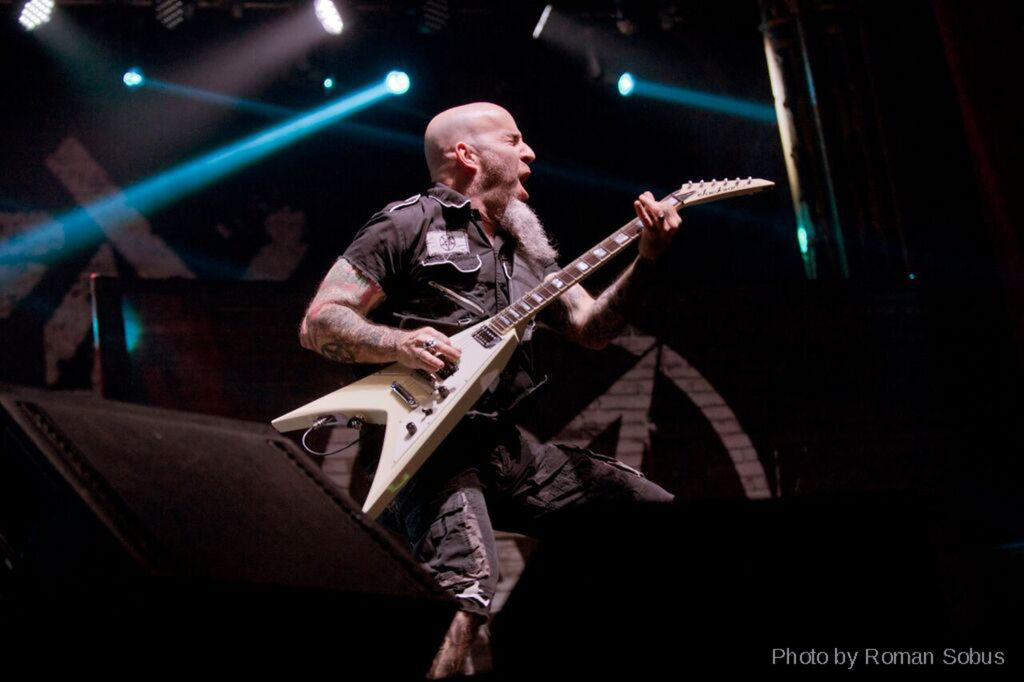 A band heard worldwide, and even on the moon (yes, really), for thirty five years and counting, Anthrax is now raising the bar. They hit the stage at Aragon Ballroom in Chicago on 1/30/16 with energy and conviction showing they're at the top of their game.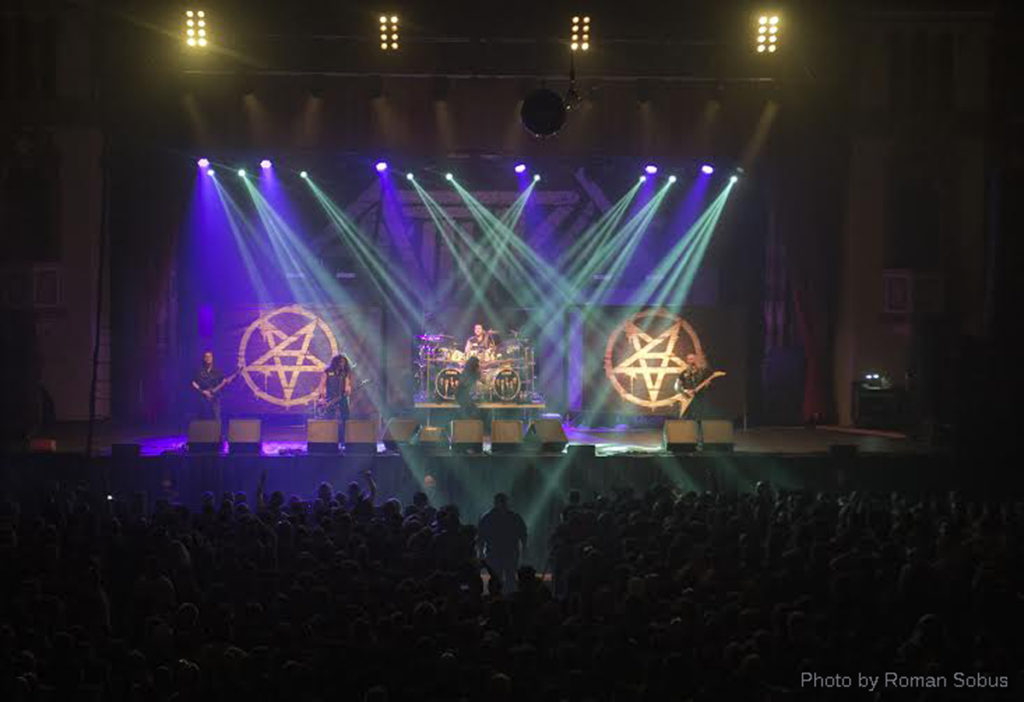 Clad in black, the crowd raised devil horns with their free hands and held phones in the other– the crowd's smartphones lit up like lightning bugs as they battled to capture the show live. Two mosh pits could be seen from the balcony, as the floor of people turned into a teaming mess of aggression and passion for the thunderous music. The light show was superb, blanketing the stage in washes of red and purple and throwing sharp beams of white to punctuate.
For lead singer Joey Belladonna, being a frontman comes as easily as breathing; he held the mic stand high to glean more yells from the crowd, and later turned it around to mime putting with a golf club. His sense of humor and ease with the crowd was apparent.
Humor has highlighted the band's mojo throughout its career, as well as comic book references, setting it apart. The album artwork on For All Kings is by Alex Ross, a mega-artist in the comic book scene and friend of drummer Chris Benante. Ross has also penned album covers including Music for Mass Destruction, Fight'Em 'Til You Can't, and the Grammy-nominated 2011 release Worship Music.
Here is a video on Alex Ross as he talks about superheroes. Anthrax, by utilizing the artwork of Alex Ross on For All Kings, uses this reference to superheroes as a way to make us question those who are in charge of humanity.
On stage, Scott Ian, rhythm guitarist and sole original founding member, added definition with his Flying V. Moving across the stage, Belladonna tapped him and lead guitarist Jonathan Donais, formerly of Shadows Fall, during solos to bring them to the crowd's attention. Bassist Frank Bello added serious bottom end alongide the double kick drum set up of Benante.
For All Kings studio time produced twenty tracks (the most ever for an Anthrax album), due in part to a unique twist. Missing certain Worship Music tour dates in '11-'14 while repairing from carpal tunnel syndrome, Benante came up with riffs and song ideas– putting the downtime to good use. Next came lyrical ideas by Scott Ian alongside melodies by Bello, and the band's eleventh studio album was born.
Arguably the top thrash metal band of all time, Anthrax will be giving fans something to tear the cellophane off of as the artistically designed album "For All Kings" hits streets this month in vinyl.
The album's single "Evil Twin":
ANTHRAX "EVIL TWIN" OFFICIAL MUSIC VIDEO from kingsize usa on Vimeo.
More information about Anthrax: here.
Photo Credits: Roman Sobus www.romansobus.net
Article by:  Hannah Frank axis.contact@gmail.com
Special thanks to: Chicago Music Guide. Read the full article here.