It's always amazing when music can capture a setting and take you to a place faster than any plane or car. On "Goodbye Chicago", you can feel the breezy streets, 1940's style bars, shiny gangster automobiles and winding horn lines that make a dancer swing down low. This is a track on the new blues album by Rockin' Johnny Burgin. Neoprene Fedora shows Burgin stepping beyond the bounds of the modern blues man as a jukebox of standards and telling his own story, ripe with real life experience.
Burgin started his music career in Chicago while at U of C studying to be a writer while also playing guitar for Taildragger, the eminent front man of whom Howlin' Wolf said, "one day this boy will take my place". When Taildragger took a brief sabbatical to prison (yes this is a real Chicago blues story), the band needed a front man. Burgin found band leading came naturally, and he now tours the U.S. and Europe, performing around 250 nights a year.
It was only a matter of time before this natural traveler would set sights for new waters. Literally, from Lake Michigan to the Pacific Ocean.
Neoprene Fedora finds Burgin in California, at Greaseland Studios (gotta love the name) with Engineer and fellow guitarist Kid Andersen. Anderson, origianlly of Norway, had received a Keeping the Blues Alive Award from the Blues Foundation for his work at his studio in San Jose, California. Anderson's native land is a reminder of how international the blues is as a genre, and how the blues allows musicians to travel all over the world finding eager audiences, especially in Europe.
Burgin is one of the few artists from Chicago that takes traveling to heart, and the album reflects this with variety of tunes. It sticks to the theme of a party blues album, while exceeding expectations with the seriously funky "I Did the Best I Could" with vocals by Alabama Mikeand a groove that sinks in fast and won't quit. Two zydeco tracks are sprinkled in, "Our Time is Short" being the most authentic mix of the Louisiana-based genre alongside boogie-woogie and the seeds of reggae.
Neoprene Fedora opens with an unmistakable surf rhythm (and rightfully so) as the title track of an album featuring a boarder on the cover. The originality of this tune is in its combinations: a 1960's spy movie soundtrack melds with Chuck Berry-type riffs only to return to the very intriguing theme.
Burgin made a name for himself in Chicago and is now going farther distances, yet coming back to his roots. He delves into his original compositions and through his writing, flexes muscles of the blues to show more of its influences and possibilities– beyond the walls of Chicago.
Will he return like a prodigal son or continue to be the Magellan of the blues? Only time will tell.
For now, we have a great soundtrack to his travels as he explores his craft. Like the surfer on the cover of the album, Burgin is catching the wave. Dive in with Neoprene Fedora, and trade that dark blues bar for some rays of sun.
Purchase the Album on CD Baby, by clicking this text or this image: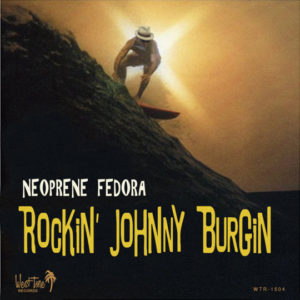 Rockin' Johnny will be performing in the Chicago area 8/29 – 9/03. Be sure to check his website (CLICK HERE) for upcoming shows, dates and times and catch some sun!
Guitarists, Burgin and guest instructor Rick Kreher are presenting a workshop while in Chicago:
Tuesday September 26, 2017
Building
Blocks
 of the Blues Part 2
Evening Guitar Clinic with Rockin' Johnny Burgin and guest instructor Rick Kreher– rhythm guitarist w Muddy Waters
Strobe Recording Studio
2631 W Division St., Chicago
Limited registration, $80
to reserve your space.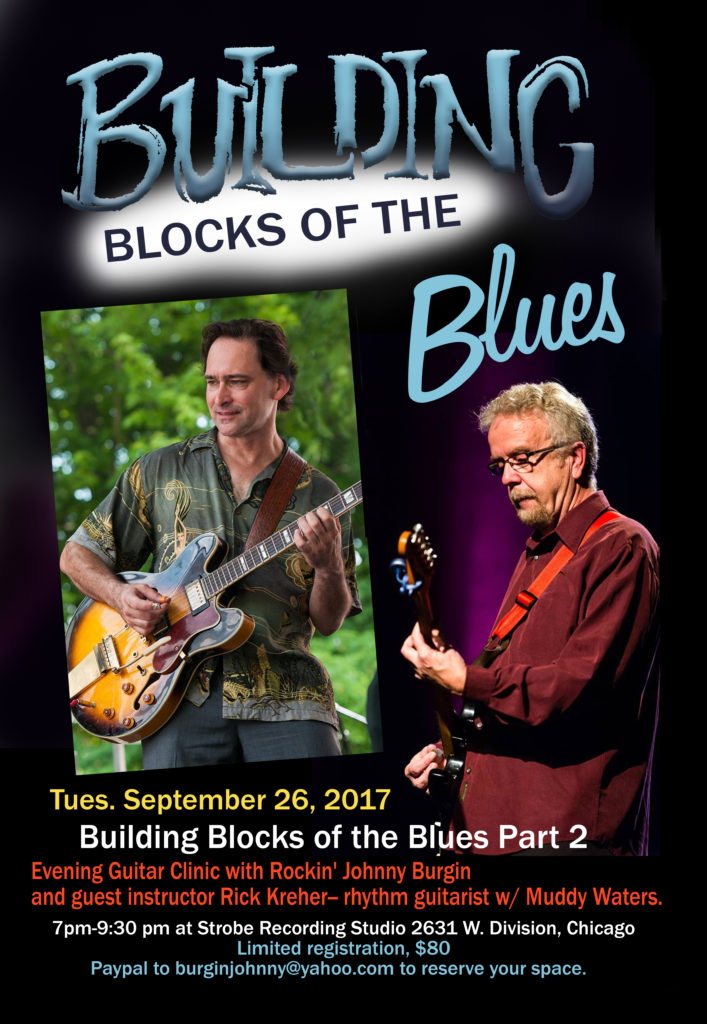 For more infomation on Strobe Recording Studio, workshop location, click here.
Article by: Hannah Frank axis.contact@gmail.com